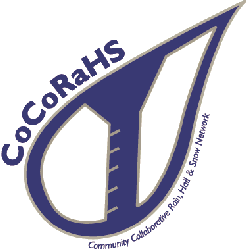 What is CoCoRaHS??
CoCoRaHS is an acronym for the Community Collaborative Rain, Hail and Snow Network. It is a unique, non-profit, community-based network of volunteers of all ages and backgrounds working together to measure and map precipitation (rain, hail and snow). By using low-cost measurement tools, stressing training and education, and utilizing an interactive website, the goal is to provide the highest quality data for natural resource, education and research applications.
Who can participate??
This is a community project. Everyone can help – young, old, and in-between. The only requirements are an enthusiasm for watching and reporting weather conditions and a desire to learn more about how weather can affect and impact our lives. TECO encourages all citizens to participate in this effort.
What do CoCoRaHS volunteer observers do??
Using rain and snow gauges (see below), local volunteers take daily measurements of precipitation from as many locations as possible. These precipitation reports are then recorded on the website http://www.cocorahs.org/. The data points are displayed and organized for many end users to analyze and apply to daily situations ranging from water resource analysis and severe storm warnings to neighbors comparing how much rain fell in their backyards.
Who uses CoCoRaHS??
CoCoRaHS is used by a wide variety of organizations and individuals. The National Weather Service, other meteorologists, hydrologists, emergency managers, city utilities (water supply, water conservation, storm water), insurance adjusters, USDA, engineers, mosquito control, ranchers and farmers, outdoor & recreation interests, teachers, students, and neighbors in the community are just some examples of those who visit the website and use the data collected by CoCoRaHS volunteers.
What kind of equipment is needed to be a CoCoRaHS volunteer observer?
CoCoRaHS volunteer observers need this equipment:
A CoCoRaHS RG202 Official 4″ Long Term Professional Rain and Snow Gauge
A computer with an Internet connection for filing reports
How do I join CoCoRaHS?
Visit this website link http://www.cocorahs.org/application.aspx to fill out an application.
Where do I buy CoCoRaHS equipment?
Purchase rain and snow gauges from the CoCoRaHS online store at http://www.cocorahs.org/Content.aspx?page=store
What training is available?
Training for CoCoRaHS is free and available at http://www.cocorahs.org/Content.aspx?page=training_slideshows