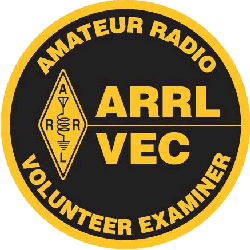 Licensing as an Amateur (Ham) Radio Operator provides both a vital communications service during disasters and other emergencies, and a source of enjoyment to millions of people around the world. There are a multitude of activities open to hams that are too numerous to list here. Licensing is also a requirement for participation in the ARES® and RACES services.
In the U.S., Amateur Radio licenses are issued by the Federal Communications Commission (FCC). The American Radio Relay League (ARRL) is responsible for administering the licensing exams, and provides this service through a network of Volunteer Examiners (VEs).
The ARRL VE team in Grayson County offers testing for all levels of Amateur Radio Operator licensing on the first Thursday evening of each even-numbered month (February, April, June, August, October, and December); check the Event Calendar for specific dates and times. Testing takes place at the Grayson County College's Center for Workplace Learning (CWL).
Local amateur radio operators periodically offer training classes to help prospective hams prepare for the first level (Technician) licensing exam. These classes are free, and have been very successful in helping individuals obtain their Technician "ticket".
Upcoming license training classes are now listed on the TECO Event Calendar.
For more information about Amateur Radio training classes or licensing, contact:
Moe Knight (NT7C) – (903) 564-7115
David Woods (W5COP) – (903) 436-9200
Or you can send an e-mail by clicking here